Siemens Group Realty was established in 1991. The Siemens family has been in real estate development and sales in Florida for over 30 years. We are a boutique firm that gives individual attention to each client. The buying and selling of your home or commercial property is our top priority and we do it with individual care.
For more information about Siemens Group Realty, please visit www.siemensgrouprealty.net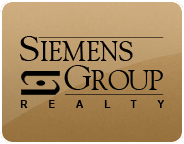 Central and North Florida
Linda Siemens Realty specializes in commercial and mixed use development properties located in Ocala and on Florida's East Coast since 2001. With over $48,000,000.00 in real estate listings, our portfolio of unsurpassed properties includes both residential and retail sites in Ocala, St. Augustine Oceanfront real estate and Vero Beach Intracoastal Development sites. We are defined by our service and expertise and are the selected agency for our mixed use development listings. Experience the exceptional service of our staff and explore our unique and sought after real estate.
For more information about Linda Siemens Realty, please visit www.lindasiemensrealty.com